Quick and Easy English Trifle
Karen..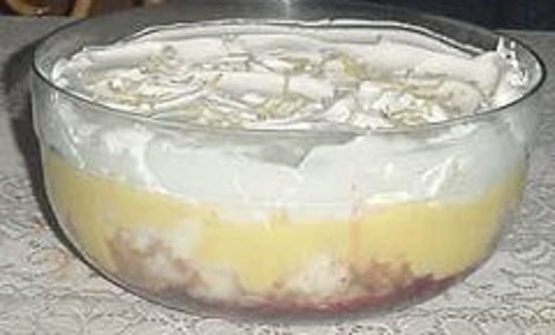 Simple but elegant, this pretty presentation always brings Ohs and Ahs on a holiday table. Be sure to scoop all the way to the bottom of the bowl when serving.

Made this for a communion party and it was just awesome. Looks pretty and tastes incredibly yummy. I used a 12 ounce bag of frozen unsweetened raspberries and a 13 ounce purchased angel food cake. I assembled about 14 hours before the party and the flavors all blended together beautifully. This makes a lot and is great for big gatherings. I am definitely going to making this a lot for family parties! Thanks, Leta!
Prepare the gelatin with raspberries as directed on package.
Cover and place in refrigerator until set.
Prepare vanilla pudding mix as directed on package.
Set aside.
After gelatin is firmly set, spoon into a large clear glass bowl.
Top with sliced bananas and sliced almonds Break angel food cake into bite size pieces and layer on top of the bananas and almonds, filling the bowl with the entire cake.
Pour vanilla pudding over cake, allowing it to seep down through the layers.
Top with heping layers of whipped cream.
Sprinkle with decorative sprinkles or more sliced almonds just before serving.
Store in refrigerator.
Best if eaten within 24 hours.
You can make your own pudding and cake if you wish, but this recipe is the easy method.