Quick and Easy Creamy Artichoke Dip
Cinny 2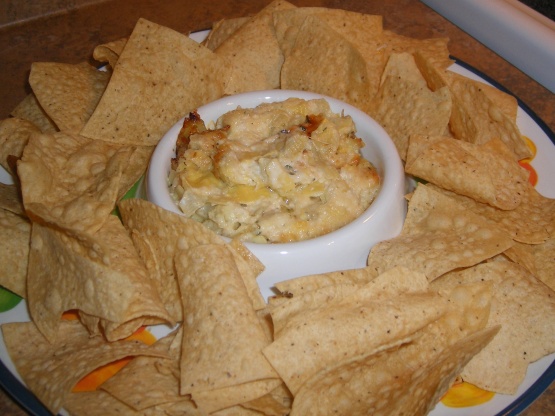 This is the easiest recipe you will ever have to follow. Just dump all the ingredients in a bowl, stir, and bake! I often experiment with different herbs and spices, and sometimes even add a bit of Asiago Cheese. It comes out scrumptious every time and is a huge hit at parties!

I added jalepenos and onions and garnished with fresh diced tomatos. So easy and everyone raved about it all evening. If only they knew how easy it was to throw together. Also great with thinly sliced garlic bread!
Tear apart or roughly chop artichokes, being careful to remove any tough leaves.
Place artichokes in an oven safe bowl or shallow baking dish.
Mix in remaining ingredients.
Bake for 25 minutes at 350 degrees.
Serve with toasted bread or tortilla chips!