loof751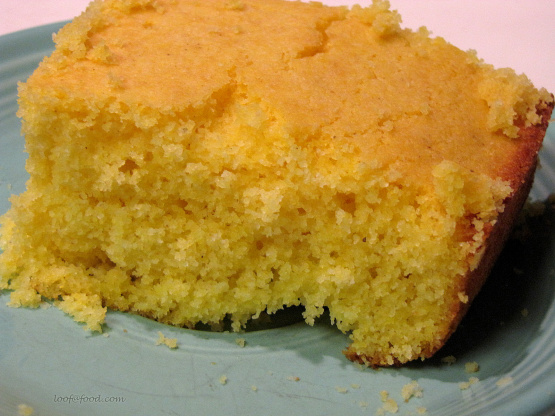 this is a recipe i dreamed up. i couldn't find one that suited my needs exactly. this one is super easy and always comes out perfect. it's delicious by itself and makes great dressing around the holidays. and my favorite part is i don't have to search for baking powder or soda or settle for a bland mix.

Great cornbread! I couldn't find self-rising cornmeal; I made half of the recipe and added 2 teaspoons of baking powder. Mine was perfectly cooked in the 25 minutes. This cornbread is not too sweet; the texture and flavor make it good for serving with soups or chili. And of course, I love leftovers for breakfast, warmed and topped with maple syrup! Thanks for sharing the recipe! Made for Fall PAC 2012
Preheat oven to 425.
Grease sides and bottom of a 13x9 glass pan with the shortening.
Mix the cornmeal, flour, salt and sugar together.
Mix in the butter, eggs, and milk just until it's well mixed. should be the consistency of grainy glue.
Pour into the pan and bake for 25 min (I have a small oven and my cook times may be a bit off -- check at 20 could take up to 30 depending on your oven).