Rita1652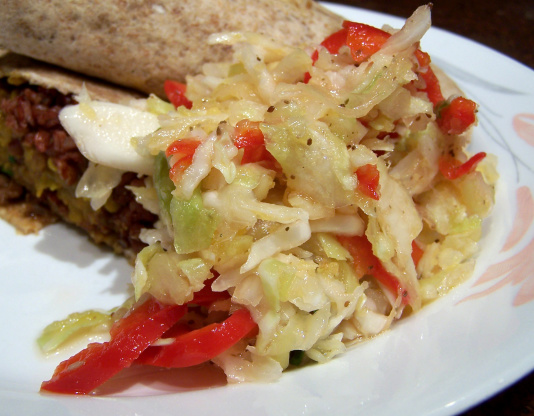 Another recipe from the 1980 version of the Grace Evangelical Congregational Church cookbook from Muir, Pennsylvania that was given to me by my Nana when I became an adult. This recipe was submitted to the cookbook by June (Schaeffer) Houtz. Cooking time doesn't include 4 hour chilling.

I used red bell pepper added celery and 4 cups cabbage. Skipped half the sugar and half the salt and still was sweet. This is very good. Stayed crunchy for 3 days in the fridge. A refreshingly light salad. Reminds me of the health salad you find at the deli. Thanks!
In a large bowl, layer the cabbage, pepper and onion rings.
Sprinkle 3/4 cup sugar over mixture.
In a saucepan combine 1 tablespoon sugar and remaining ingredients. Mix well and heat to boiling.
Pour hot mixture over the slaw.
Cover with foil or plastic wrap and refrigerate for 4 hours.
Toss before serving.