nbungay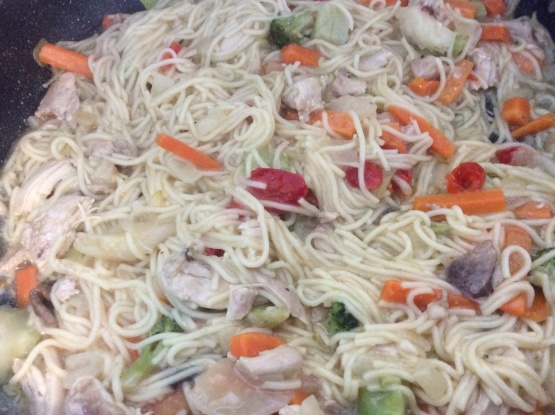 This is simply the best! A lot of recipes on here seem to list chow mein as being a rice dish, but I've always known it as noodles, like this one. Use as a side dish or main dish. Easily made vegetarian.

This was really good and to consider the ease of the recipe, WONDERFUL! I only had one fairly small chicken breast and I chopped it into chunks and cooked in powdered chicken broth (mixed with water). I sauteed my onion and 2 tsp fresh ginger til brown and added garlic last. I combined with my whole bag of frozen stir fry veggies, added the chicken broth (mixed with cornstarch) and cooked for a few min.I was surprised how rich, fragrant and deeply colored my sauce turned out. I served mine over brown rice and chow mein noodles and for the rest of the family over spaghetti. It made for a really attractive lo mein. I will make this recipe again and again! Than ks JESmom, for posting. Roxygirl
Cook noodles according to directions. Drain and set aside.
In a small dish, combine the broth, cornstarch and salt; set aside.
Heat the oil in a large skillet or wok, then add the onion, ginger and garlic. Stir-fry until you can smell it, about 1 minute. Add the veggies, until thawed, maybe 4 minutes.
Add the chicken and broth. Cook, stirring constantly, until the mixture boils and thickens, about 2 minutes. Remove from heat.
Stir the veggie mixture into the noodles.