Quick and Easy Chicken Liver Pate
Bergy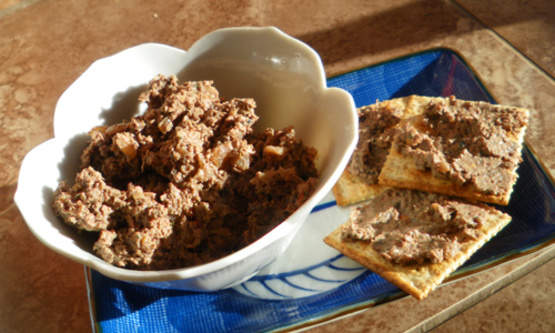 Recipe by Axe
A very easy pate that's big on taste as opposed to those that boil the livers. Great on crackers and especially in Beef Wellington!
Thanks, my second time making this pate! Could it be easier or less expensive? If you can't find the chicken livers at your regular grocery, try the Mexican market. I added two pinches of sugar per another recipe to cut the liver - another idea is a touch of sherry. I did use one hard boiled in in this one. Per other things that I had read I put plastic wrap on top to "seal" the pate - Yum and thanks for the simple recipe, Axe!
Melt butter in heavy sillet over medium heat.
Add cleaned chicken livers and saute until tender, about 6-8 minutes. Cut ino quarters and cool.
Save pan drippings.
In a blender or food processor, combine liver pieces with the reserved pan drippings, onion, salt and pepper.
Blend well for about 20 seconds.
Optional: Blend in the hard boiled egg for a richer pate.
Enjoy!