Quick and Easy Chicken in Cream Sauce
Noo8820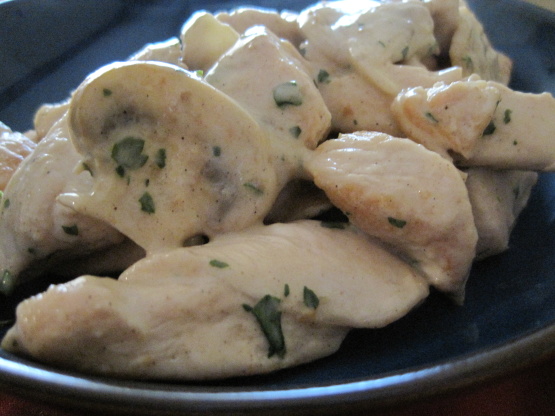 I used to make this constantly when I first learned to cook. It's a great little dish that takes no time or effort to prepare. I used to serve it with boiled rice or new potatoes and vegetables.

The whole family really liked this dish; the flavours go well together, especially the fresh parsley on top. We served it with pasta and some freshly grated cheese. A keeper recipe, thanks for sharing! Made for PRMR
2

teaspoons cornflour

2

tablespoons oil

4

ounces sliced mushrooms

4

tablespoons white wine

5

fluid ounces whipping cream
salt and pepper
Slice the chicken into thin strips and toss in the seasoned cornflour.
Heat the oil in a pan and fry the chicken pieces until golden brown.
Add the mushrooms and cook until tender,about 2 minutes.
Remove the chicken and mushrooms and keep warm.
Pour the wine into the pan, bring it to the boil, and then add the cream. Cook for 1-2 minutes, until the sauce is thick and creamy. Season to taste.
Pour the sauce over the chicken, sprinkle with fresh parsley and serve.