Quick and Easy Black Bean Salsa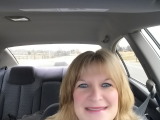 This is yummy with tortilla chips. It's very light for the diet. I usually make at Christmas gatherings too, with colored Tortilla chips.
Directions
Drain tomatoes, Ro-Tel, corn and black beans.
Add any or all of the onion, garlic, cilantro and parsley.
Be creative; use your own favorites.
Mix together.
Add dressing, using less than the whole bottle until the amount suits you.
Reviews
Most Helpful
Before going out to dinner with friends, I had everyone come over for cocktails and munchies. I served your Quick & Easy Black Bean Salsa. What a hit it was with everyone. This is a full-flavored salsa that is so easy to prepare. After we had dinner at the local restaurant, everyone came back to the house for dessert (I served your Pineapple Pie). Great evening with friends and great food. Thanks for making our evening so enjoyable. :-)
Very Tasty! I also add some diced Jalapenos for a little heat.

I enjoyed how fast this went together and how healthy it was. The Italian dressing added the slightest bit of a "different" taste for me. Not the taste I expect in my salsa I guess. That said, we enjoyed it very much with homemade baked tortilla chips and tamales for dinner. Thanks for a healthy one to try!