Quick and Easy Beer Bread
karen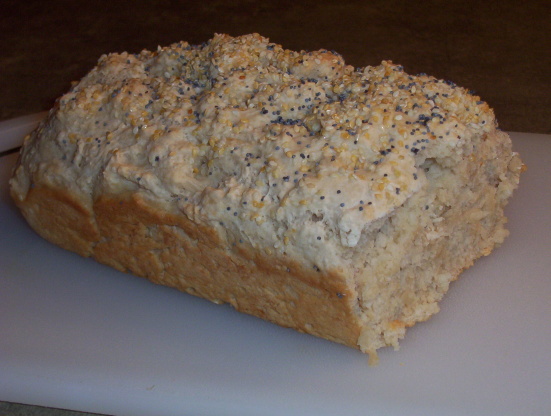 This recipe was given to me by an Irish friend whom I met when we were living in Germany (the Irish and German factor explains the 'beer' ingredient). Very quick and easy to make - just mix the ingredients and put straight in the oven. My friend noted that dark beer works best. I like to sprinkle white and black sesame seeds on the bread, as it gives it that extra taste.
3

cups plain flour

3

tablespoons sugar

1

tablespoon baking powder

1

teaspoon salt

325

ml beer, at room temperature (1 bottle, dark beer works best)

1/4 cup seeds or grains of choice (optional)

sesame seeds, black sesame seeds, poppy seeds, sunflower seeds, etc
Mix dry ingredients.
Add beer all at once (it foams a lot).
Stir until just mixed.
Put in a greased loaf pan. (Optional: Sprinkle bottom of pan with seeds of choice after greasing; then place dough in pan and sprinkle once again).
Bake at 190oC (375oF) for 35-40 minutes.