Quick and Easy Baby Blue Salad
Lvs2Cook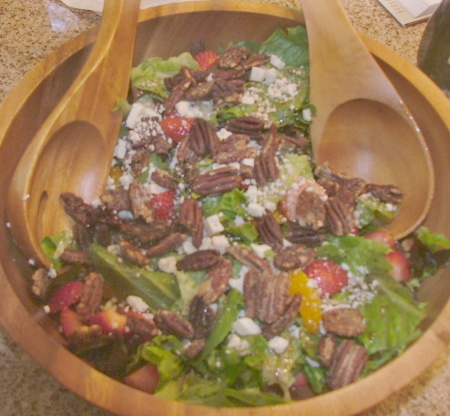 This is a quick version of Southern Living's baby blue salad that is already posted here. It's delicious and easy to make. The pecans are hard to resist on their own and would make a great snack. You can use more or less balsamic vinaigrette to suit your taste -- I like less.
Place pecans on baking sheet (I covered the sheet with parchment paper for easy clean-up). Coat pecans with cooking spray.
Combine sugar and Creole seasoning and sprinkle over pecans, tossing gently.
Bake at 350º for 15 minutes or until pecans are golden brown, stirring once. Cool thoroughly.
Gently toss together greens, mandarin oranges, strawberries, balsamic vinaigrette, and crumbled blue cheese and top with pecans.