Quick and Creamy Sausage and Pasta
2Bleu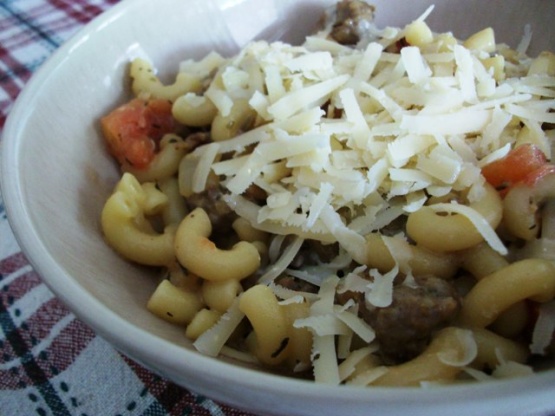 This recipe takes less than a half hour and the results are delicious! I actually had this on the table in 20 minutes! The flavors of Italian sausage, cavatappi, fresh basil and tomatoes come together so nicely that everyone will think that you slaved over a hot stove.

This was tasty! But we found the sauce to be thin for this pasta making it difficult to eat. Pasta wouldn't stay on the fork. Found it was more watery then creamy. Tomato paste would have given this a more sticking consistency. I used scallions for the garnish. I did make the whole amount and decided to add ricotta and mozzarella cheeses along with a pasta sauce to make Baked Quick and Creamy Sausage and Pasta with the leftovers. We did sprinkle some hot pepper flakes on. All in the end I say this is 4 stars. A close 5 stars. Thanks for the RSC yummy eats. ;)
Put large pot of salted water on high and bring to a boil.
Meanwhile, squeeze sausage meat out of the casings into a large frying pan, over medium-high heat. Roughly chop meat. When the sausage is no longer pink, add onion and garlic to the pan. Stir and sauté until onion is softened.
Add pasta to water and cook for 1 minute less than the minimum time recommended on the package. At the same time, add tomatoes, basil and half and half to the sausage mixture. Season with salt and pepper and lightly simmer sauce while pasta is cooking.
Strain pasta and add to sausage mixture. Turn heat down to medium and let flavors mix together until cavatappi is cooked to your liking.
Plate the pasta and top with optional cheese and parsley, basil or green onion.
Note: other shaped pasta work well too if cavatappi not available).