Quick and Creamy Boscaiola Pasta (Bacon and Mushroom)
teresas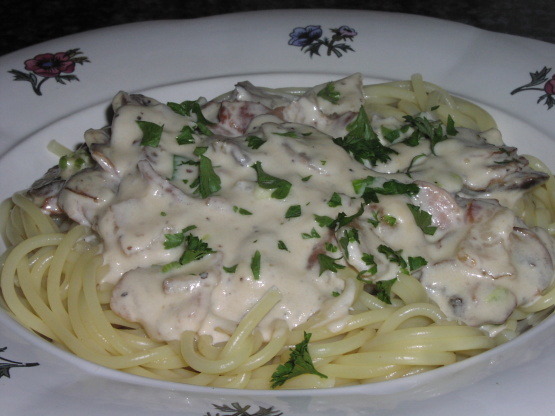 I'm posting the original recipe, but will mention here, the changes I made, since I think that both are equally delicious. I subbed tortellini (any kind, though I used beef) for the .... well, actually, the recipe says, any pasta, though it recommends spaghetti. Tortellini worked well! And I subbed chorizo sausage for the bacon, since I had a lonely half a sausage in the freezer (about 100g). I sliced it thinly. I did use the mushrooms. And I added garlic. And I added fresh peas, lightly steamed, again, because I had them. I added them to the sauce in the last five minutes. Very versatile recipe!! Quick, easy, rich and delicious, mmmm! for pasta lovers everywhere! from Kitchen Classics : The Italian Kitchen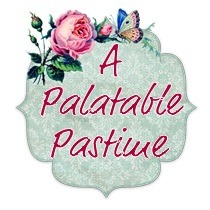 Very tasty! I used bucatini pasta which is like a cross between spaghetti and macaroni. I did NOT add the olive oil as the fat from my bacon took care of the mushrooms. I also drained off all the excess bacon drippings before adding the cream. I used half and half to lighten it further and did NOT cook it 15 minutes, but added the cream and onions along with the parsley then tossed in the cooked pasta which I made sure I did NOT rinse, so the starches on it effectively helped the sauce cling to the pasta in about 1-2 minutes. As you can see in my photo, it did not puddle, and doesn't need a thickener either. I garnished with parm and red pepper as is my habit with most pasta (and the reason I stirred in the parsley, because I didn't want all that covering up too much food in my photo.) It's personal preference really. I might try this one with peas sometime, but probably will use pancetta in that case as it's what I am used to. Thanks for sharing. Delicious lunch!
Cook the pasta in a large saucepan of rapidly boiling salted water until 'al dente'. Drain, return to the pan, and keep warm.
While the pasta is cooking, heat the oil in a large frying pan, add the bacon and mushroom, and cook, stirring, for 5 minutes, or until golden brown.
Stir in a little of the cream, and scrape the wooden spoon on the bottom of the pan to dislodge any bacon that has stuck.
Add the remaining cream, bring to the boil, and cook over high heat for 15 minutes, OR until the sauce is thick enough to coat the back of a spoon.
Stir the spring onion through the mixture.
Pour the sauce over the pasta, and toss to combine.
Serve sprinkled with the parsley.