Zurie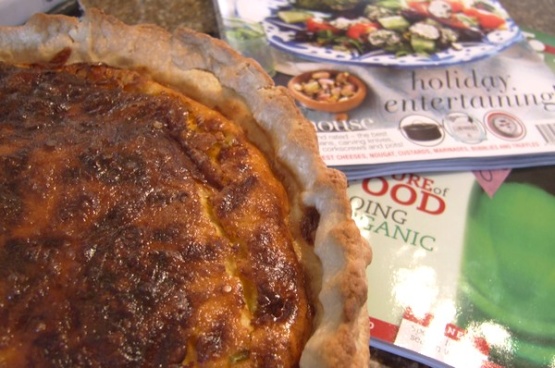 This is a Betty Crocker recipe that was a family favorite growing up. As my husband says... anything with bacon is GOOD!

Top Review by Zurie
At the moment my 5 stars refuse to appear!!! This is a delicious recipe, and the amounts given are exactly right for my large pie dish. I confess to 2 substitutions. One which I will not repeat is, I used 1 cup buttermilk and 1 cup cream -- next time it will be cream only!! And I used a bunch of chopped spring onions instead of onion. I also added a little nutmeg. My convection oven was simply too hot (at 220 deg C, which is about your 425 deg F for the first 15 mins) This was MY mistake -- therefore the top is too dark. This is not the fault of the recipe, and I turned my oven way down before it could do more harm! A delicious and easy recipe. I used my own shortcrust pastry recipe. Thanks!! I hope the 5 stars decide to appear.
Heat oven to 425 degrees.
Prepare Pastry. Sprinkle bacon, cheese and onion in pastry lined dish.
Beat eggs slightly; beat in remaining ingredients. Pour into quiche dish.
Bake 15 minutes.Reduce oven temperature to 300 degrees. Bake 30 minutes longer.
Let stand 10 minutes before serving.