Dine Dish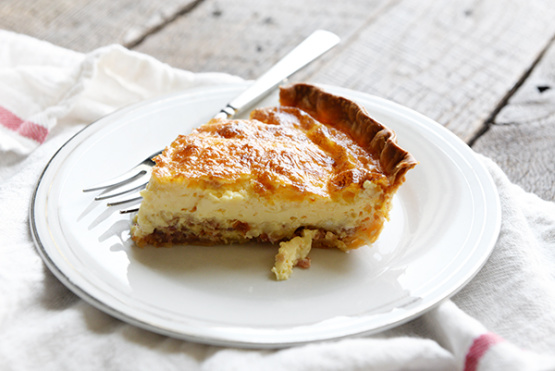 I have used this tried and true recipe for many years. It is from an old Betty Crocker Cookbook. A few reviewers have mentioned the onions don't cook enough. Please note that the instructions say "minced onions". It is a very small cut. If you don't intend to cut the onions that small, please do sauté them first. I have great results every time I have made this quiche using a ready from the freezer 9-inch pie crust.

This came out beautiful! I used diced ham instead of bacon and half and half instead of whipping cream. The best quiche recipe I've come across. Bakes up nicely and has a great texture. Oh, I did add a little crushed garlic also. Thanks for sharing!
Heat oven to 450°F.
Sprinkle bacon, cheese and onion in pastry-lined pie pan.
Whisk eggs slightly, Beat in remaining ingredients.
Pour mixture into pie pan.
Bake for 15 minutes at 450°F.
Reduce oven temperature to 300°F.
Bake an additional 30 minutes.
Quiche is done when knife inserted 1 inch from edge comes out clean.
Important--let stand 10 minutes before cutting.