Queso Dip With Tequila by Rick Bayless
Food.com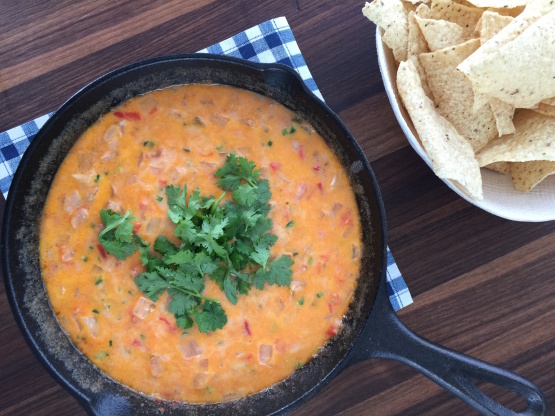 No Velveeta here! Found this in Food and Wine's Best of the Best recipes. I usually make my [recipe=345329] College Girl's Best Queso Ever[/recipe] but this one sounds good too! Rick Bayless is super awesome.

This was different. I had some home grown tomatoes that worked well here. I only made half the recipe for the 2 of us so used 2 small tomatoes, about a quarter of a large onion and 2 small jalapenos. I think garlic would have been a good addition to this. After it cooled it became very hard (could have been because I added just a little mexican blend cheese that I needed to use) along with the Monterey Jack. A nice change. Thanks Made for PAC Fall 09 :)
In a large skillet, heat the olive oil. Add teh tomatoes, jalapenos, onion, and a large pinch of salt and cook over moderately high heat. stirring often, until softened, about 5 minutes. Add the tequila and cook, stirring frequently, until the pan looks dry, about 2 minutes.
Reduce the heat to low. Add the cheese and cook, stirring constantly until fully melted, about 30 seconds. Quickly transfer the cheeese dip to a serving bowl. Sprinkle with the cilantro and serve immediately with hips.