Queso Blanco (White Cheese Dip)
alligirl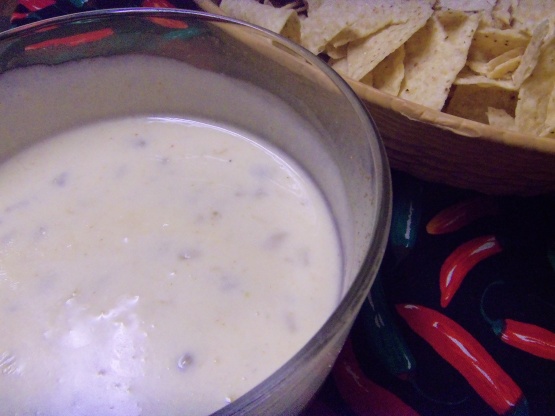 Queso Blanco - white cheese dip for nachos, served in Tex Mex restaurants. I imagine you could use yellow American cheese for regular queso dip - from penniesonaplatter.com

I've made this exact recipe several times in the past, and it's fantastic. It's exactly like the queso dip served at all the local Mexican restaurants in my neck of the woods. We prefer to call it "crack cheese", as it can become rather addictive when served with warm tortilla chips. Even better, pour it over your burrito or fried chimichanga.
Toss all ingredients into a large microwave-safe bowl. Microwave on high for 5 minutes, stopping to stir after every minute. The mixture might seem watery during the first few stirs, but should come together as a nice runny dip after all the cheese is melted.
Serve immediately as a dip with tortilla chips or as a sauce over your favorite Mexican dish.