Quesadillas With Options!
teresas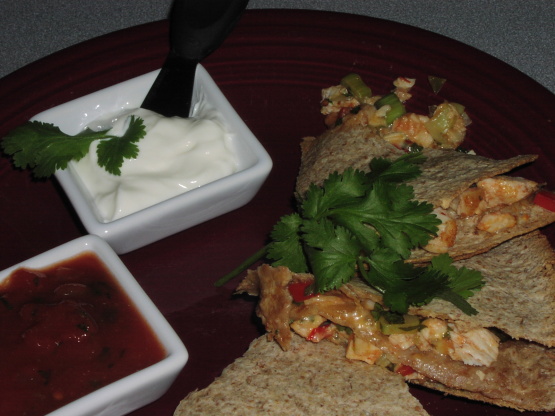 Everyone likes their tortillas differently, this shows a couple different substitutes for options.

What a great tasting Quesadillas! The recipe is a bit confusing with the amount of tortillas and the stacking. I did what Pamela did and stacked 3 tortillas. I only made one and cut it in half. I made mine with the following: I used whole wheat tortiallas, chicken breast, green onions, red peppers, mexi cheese and cilantro (I love that stuff). I removed the foil the last 5 minutes of cooking to toast and crisp it. It was great for a late evening dinner that did not stuff you. I will be making this again. Thanks, Lori Alcorn for posting.
6

tortillas (8 inch, sundried tomato or spinach tortillas add some extra flavor)

2

cups chopped cooked boneless skinless chicken breasts (can replace with ground turkey or beef)
1⁄4 cup chopped green onion (can replace with or add in white onions, green peppers or jalapenos, depending on how hot you want i)
1⁄4 cup chopped fresh tomato (can replace with or add in red peppers or cilantro)
3⁄4 cup shredded cheese, of your choice chedder or 3⁄4 cup jalapeno, monterey jack are great
1⁄4 cup salsa, choose heat according to your taste
Preheat oven to 425 degrees.
Lightly coat a baking sheet with veggie spray.
Mix chicken, cheese, salsa and vegetables together then split into four parts.
Place 2 tortillas on baking pan, spreading a quarter of the mixture on each.
Repeat layering with remaining mixture and tortillas, pressing down slightly to help hold layers together.
Cover top tortilla loosely with foil and bake stacks until heated through, about 20 minutes.
Cut each quesadilla into 6 wedges.
OTHER OPTION: You can put the four parts of mixture into each tortilla, roll the tortilla up and place on pan seam side down.
Bake for same length of time and same temperature.