Quesadillas for One or Two
Derf2440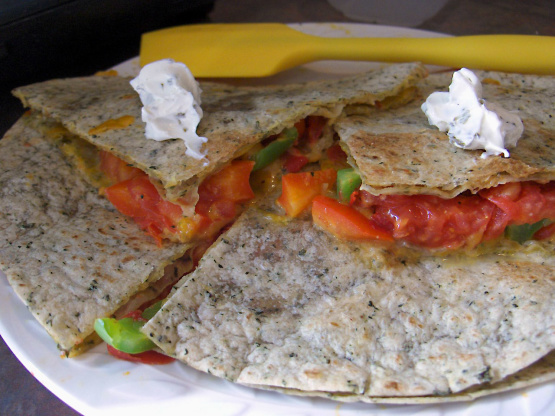 Nice quick lunch for yourself or for you and your honey. Recipe can be cut in half to make for one. We like to add 1 or 2 of the variations, there's always something left over in the fridge to be used up, use your imagination. (the oil can be replaced with veggie cooking spray, it works just as well) Our standard is deli chicken slices, a mix of cheddar and parmesan, green pepper sticks, and chopped green onions and fresh cilantro, served with hot salsa. Yummy!!!

I have always loved quesadillas just never made them. These were so easy and so tasty, my husband has never tried them at all, and he really enjoyed them. I used a sharp cheddar cheese, chicken, tomato, green pepper, green chilli, black olives and sour cream. I know it will become a 'regular'!! =)
Brush pan with oil and heat.
Place tortilla in pan and heat on one side.
Turn tortilla over and sprinkle with cheese, tomato and chile pepper.
Cook until cheese melts.
Remove tortilla to plate.
top with guacamole or salsa if desired.
Any one or more of the variations ingredients can be added.
Fold in half, cut into quarters and serve hot.