Queen Victoria's Radish Sandwich
COOKGIRl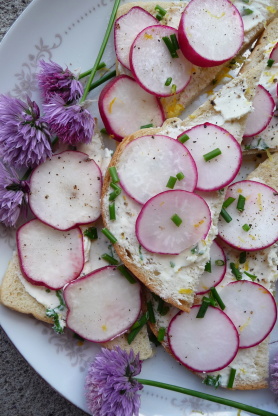 Lovely little open-faced fresh radish sandwiches on French bread or sourdough, with cream cheese and herbs. Slightly adapted from Rose Tea Cottage.

Perfect! Whole wheat sourdough bread from a local bakery, organic radishes from our CSA box, herbs from the garden, Oregon-made Nancy's cream cheese, butter from a local farm. Served with Recipe #26710, hard boiled eggs and Valencia orange slices for a most delicious yet easy weeknight meal. Thanks for posting! Will make again very soon!
Combine the first six ingredients in a bowl.
Spread the butter and cream cheese mixture on bread slices.
Arrange sliced radishes on top.
Sprinkle the snipped chives on top and enjoy.