twissis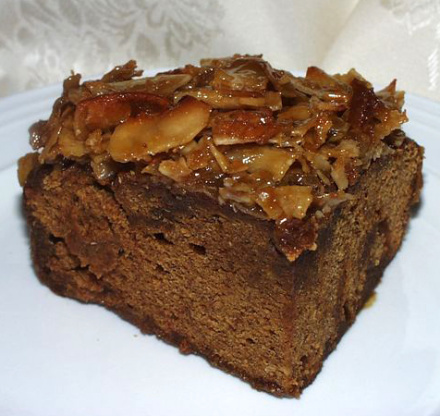 From Ricardo's magazine. Had this cake before and it is delicious!!

This rating & review has been revised after overnight refrigeration (which I strongly recommend) as it is outstanding when served cold from the fridge! The cake itself is tasty, moist and texture perfect! The frosting adds a caramel richness and coconut crunch I found delicious! I made the recipe exactly as written, but had to use a 7x11-in baking dish. It was still filled to the brim when frosted. The cake & frosting are dark from the dates & brown sugar, so I think it would be esp eye-pleasing when served w/a bit of ice cream or whipped cream. Great recipe, Redsie! I loved it! Thx for sharing this taste treat w/us. :-)
Cake:.
With the rack in the middle position, preheat the oven to 350°F Line the bottom of a 9-inch square baking dish with parchment paper. Butter and flour the sides.
In a saucepan, bring the water, dates and baking soda to a boil. Simmer for about 3 minutes, stirring frequently. Transfer to a bowl and let cool.
In a bowl, combine the flour, baking powder and salt. Set aside.
In another bowl, cream the butter and brown sugar using an electric mixer. Add the eggs one at a time, beating until the mixture becomes smooth and creamy. With the mixer on low speed, add the dry ingredients, alternating with the date mixture. Pour into the pan. Bake until a toothpick inserted in the centre comes out clean, 25 to 30 minutes. Remove from the oven. If desired, place the pan on a baking sheet to catch any icing that might spill over. Set the oven to broil.
Icing:.
In a saucepan, bring all ingredients to a boil, stirring constantly. Reduce the heat and simmer gently for about 2 minutes.
Spread the icing on the hot cake and broil until golden brown, 2 to 3 minutes.