Bergy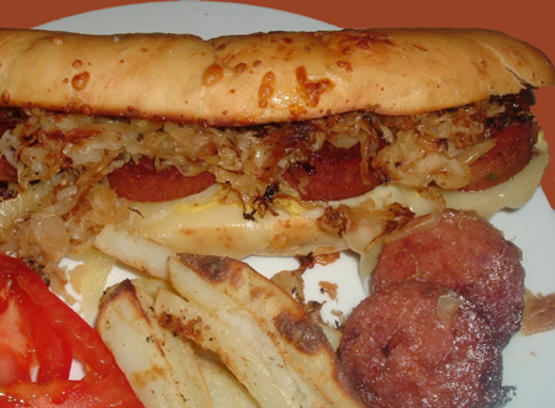 A Cincinnati tradition in grilling season with the added touch of a Wisconsinite. The smoked mettwurst is different from the German type, which is more spreadable. You may want to use smoked sausage or kielbasa if metts are not available in your area. Great for camping or grilling at picnic areas that allow fires.

Top Review by Bergy
Great Saturday Night dinner. I cut the recipe back to 1 Mettwurst bun. The Mettwurst that I get fom a local butcher is a 2 1/2" round sausage so I cut it in 1/2" slices and cooked it in beer along with the garlic, coriander &pepper - this does add a special flavor! For condiments I added sauerkraut(cooked on the pan when I browned the sausage). German mustard, American Jack cheese and 2 tbsp of Jalapeno Jelly. Thanks Sue this was a really great tasting treat
6 -8

smoked mettwurst (may sub smoked sausage or kielbasa)

24

ounces beer (preferably a German lager, like Spaten)

6 -8

cloves garlic, crushed

2

teaspoons coriander seeds
1⁄2 teaspoon cracked black pepper
Place metts in a saucepan along with beer (enough to cover), crushed garlic, coriander seed, and pepper.
Simmer over low heat or on top of grill for 15-20 minutes.
Remove metts from liquid and place on grill rack and cook over warm coals until warmed through and browned to your liking.
May place back in liquid to keep warm for a short while.
Serve hot on buns with your favorite condiments (mustard, minced onion, horseradish, cooked onion, cooked sweet peppers, warmed drained sauerkraut) or on a plate with kraut or cooked cabbage.