Boomette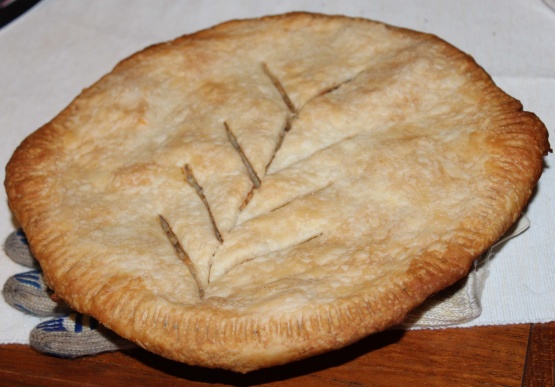 A wonderful Canadian dish. Found this while searching for Canadian recipes.
I didn't use the savory. Here in Quebec, the salmon is mixed in the mashed potatoes. For me that's a real salmon pie. When I made that recipe, I couldn't imagine doing a layer of mashed potatoes with the salmon on top. I mashed the potatoes with butter and milk and then added the salmon with onion. It turned out so yummy that way. Thanks Shirl :) Made for Cookbook tag game
Grease individual casseroles or a nine-inch deep pie plate.
preheat the oven to 400°F.
Drain, flake and crush bones from can of salmon.
Bones are loaded with calcium and should never be discarded.
Combine potatoes and all other ingredients except salmon.
Place half the potato mixture in bottom of prepared casseroles or pie plate.
Cover with salmon.
Top with remaining potato mixture.
Prepare sufficient pastry, roll out and cover casserole or pie plate.
Cut vents for steam to escape.
Bake in 400 F oven for 25 to 30 minutes or until bubbly hot and crust is golden brown.
Hint: Serve with chili sauce or chutney.