Anke R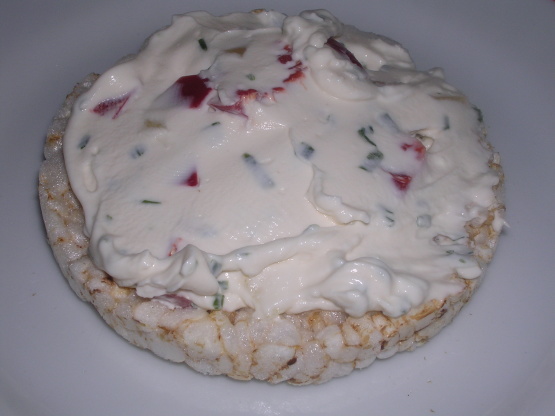 This is a spread which is great on rice crackers. Quite good as a quickie snack.

I used ricotta (no quark available here in OZ), and I subbed roasted red pepper. I also halved the amounts of dairy. It was pretty good, especially after I added ground black pepper, and it did improve overnight in the refrigerator. Oh, I used the chives in the mixture but parsley was sprinkled over when it was served on thin rice crackers. Next time I make this I want to add finely chopped pickled onion. Lemon pepper would be good too. Thank you.
If you your quark resembles sour cream, you should mix it with salt and drain it in a drainer lined with a clean cloth.
Once it has the consistency of cream cheese you can continue.
mix quark, sour cream (may be substituted by cream), pepper, onion.
add salt and a pinch of sugar to taste (if you had to drain the quark, you might want to leave the salt out).
Add chives or parsley.
Note: You can vary this by adding hard boiled eggs, using only onions, garlic and herbs.
It lasts about a week in the fridge.