Sandi M.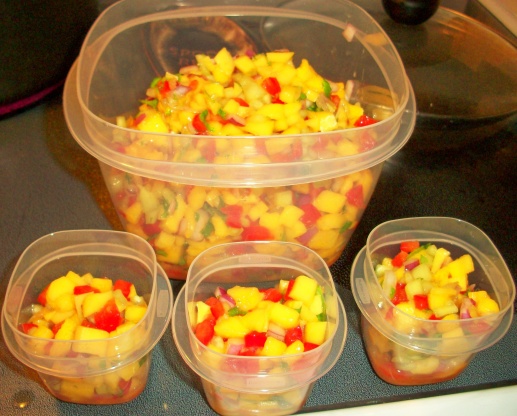 This recipe was posted on Qdoba's website recently and I wanted to post it here. This salsa is a sweet alternative to typical tomato-based salsas. The recipe is great year-round, although it's best when mangoes are in season each May. It pairs well with seafood, poultry, or simple tortilla chips.

Delicious! I make this on a pretty much weekly basis, I am so addicted! I made a couple changes, I omit the sugar (use some agave for a healthier alternative if you still want the sweet), I add 2 jalepenos instead of one although I seed mine first. Toss everything except the mango, lime & cucumber in the food processor to make sure everything gets minced nicely. Then add the fruit and toss it all together. This goes perfect on salmon, turkey burgers, regular burgers, with chips, pretty much anything. Any excuse I have to make it I do and it is fab =] Thank you for this recipe!
2

cups mangoes, cut into 1/4-inch to 1/2-inch pieces (fresh or frozen)

1

medium red pepper, diced into 1/4-inch to 1/2-inch pieces

1

medium cucumber, diced into 1/4-inch to 1/2-inch pieces
1⁄4 red onion, diced into 1/4-inch to 1/2-inch pieces

1

jalapeno, finely minced
1⁄4 cup fresh cilantro (chopped)

1

limes, juice of or 2 tablespoons lime juice

1

tablespoon sugar

1

pinch salt
If using frozen mangoes, thaw and then cut into 1/4" to 1/2" pieces; place in mixing bowl.
Cut ends of cucumber and peel skin. Cut in half lengthwise. Using a spoon scrape out seeds. Dice into small pieces and add to the mixing bowl.
Dice 1/4 of a red onion and a whole red pepper; add to bowl.
Mince the jalapeno and add to bowl. If you like heat or spice, leave the ribs inches If you don't want extra spice, cut out ribs and seeds. If your skin is sensitive to the heat, wear gloves or coat hands with a small quantity of salad oil, which makes it much easier to rinse the pepper from your hands. This is a must for contact wearers.
Chop cilantro and add to bowl.
Squeeze juice from one lime (approximately 2 tablespoons) and add to bowl.
Add sugar and salt; stir.
Refrigerate until needed.