Put It Together in 15 Minutes Lasagna
DuChick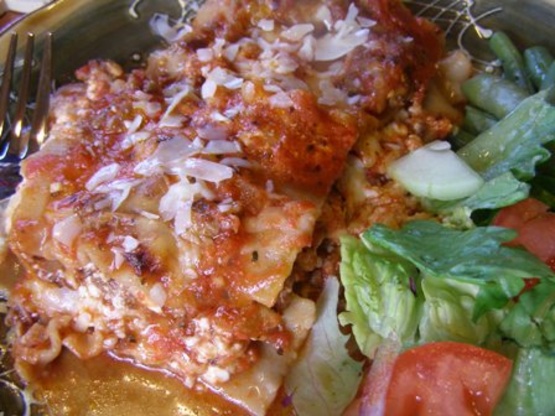 I got this recipe from Robin Miller on the Food Network. I did tweak it a bit to my taste. I love her show, hope you like this as much as we did!! By the way, I had never made lasagna before and it turned out GREAT!! I never knew you could make lasagna without boiling the noodles first! What a time saver.

Mmmm wonderful! I'm from the old-school of boiling those noodles first, but had to give this a go. Besides a little overflow in the oven, this is perfection! I did take a few liberties and used whole wheat noodles, crushed tomatoes rather than diced and instead of ricotta I used fat free cottage cheese. We're just not ricotta fans here and cottage cheese has always served as a suitable substituion. I also used 2% mozzarella. Very gooey and cheesey, like a good lasagna should be! MERP'd for my adopted chef in Fall Pick a Chef 09.
Preheat oven to 350°F
Lasagna Sauce:
Sauté onion and garlic in olive oil until soft.
Add beef, season with salt and pepper, then brown.
Stir in basil, oregano and red pepper flakes.
Add diced tomatoes and tomato sauce and bring to a simmer.
Reduce heat to low and simmer 10 to 15 minutes.
Remove from heat and set aside.
Cheese Filling:.
In a separate bowl, combine ricotta, 2/3 of the mozzarella, egg, and black pepper.
Mix well.
Putting it together:.
Pour 1 cup of the meat sauce in the bottom of a 13 by 9-inch lasagna pan.
Arrange 4 UNCOOKED lasagna noodles on top of sauce, overlapping noodles slightly to cover the bottom.
Spoon half of the cheese mixture over noodles.
Cover cheese mixture with 1 1/2 cups of meat sauce and 4 more noodles.
Top second layer of noodles with remaining cheese mixture, 1 1/2 cups of meat sauce and 4 more noodles.
Top noodles with 1 1/2 cups of meat sauce and remaining mozzarella cheese.
Top with Parmesan cheese.
Cover with foil and bake 45 minutes. Uncover and bake 15 more minutes, until top is golden and bubbly.
Let stand 5 minutes before slicing.