diner524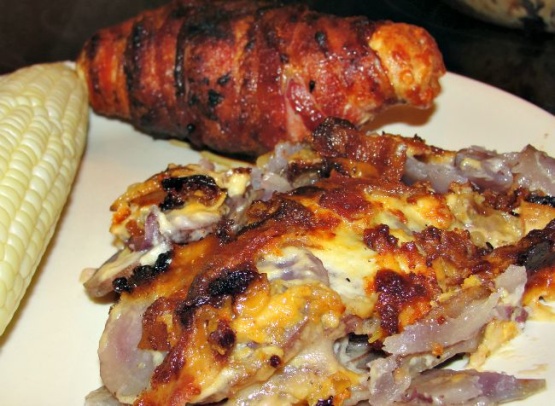 I have two pounds of purple potatoes from our local co-op and wanted to find some recipes to use them in. This recipe is from eatingoutloud.com and I will be making it soon.
WOW!! What an awesome recipe!! I had been wanting to try the purple potatoes from a year or two ago on a ZWT or Quest. I was so glad that I found them in my local grocery store (here in boon town), although with a lot of eyes and ready to go bad. To me, the color, really didn't make a difference as to how the potato tasted, and very similar to a red skinned potato for taste and texture. Totally loved the combination of the roux, cheeses and bacon, so good. I checked mine at the recommended time of 40 mins, and my taters were still not soft, so I added another 1/2 hour, which worked out great. I have found that even with sliced taters, they still are piled upon each other, and seem to take the same amount of time to cook as a baked tater. But WOW, do these have a ton of flavor!! I doubt I will bother buying the purple potatoes again (I guess they aren't popular enough here and aren't as fresh as red skinned or baking taters) but will definitely make this recipe again with other potatoes!! Thanks for sharing the recipe. Congrats on winning the 1st Football Pool of 2015!!!
Begin by making the gratin sauce. In a small pan place the butter and melt. Over medium heat add the flour and stir to combine, approximately one minute. Slowly whisk in the milk and stir until thickened. Add cheese and when melted remove pan from heat. Add salt and pepper to taste.
Add the olive oil to a frying pan and heat. Add shallots and saute until slightly brown and caramelized. Remove from the pan and set aside. Place bacon in same skillet and cook through but do not let bacon get crispy. Remove from pan and cut into one inch pieces.
Grease a gratin dish or shallow baking dish and add one half of the sliced potatoes. Sprinkle the shallots over the potatoes and then add the remaining potato slices. Pour the gratin sauce over the potatoes and spoon into visible cracks and crevices. Top with parmesan cheese and bacon. Bake for 40 minutes in a preheated 350 degree oven. Serve immediately.