Pureed Squash Butternut, Acorn Any Hard Winter Squash!
Rita1652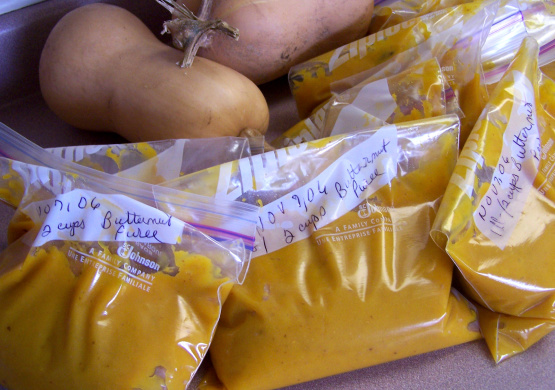 This process is so very easy. No peeling! Take a look! Squash is great for pureeing, roasting and baking. Once cooked and pureed, it can be used in soups, main dishes, vegetable side dishes, even breads, muffins, custards and pies. The skin has many nutrients so go ahead and use it. Or peel and discard. But you will never know it's in the puree. Dress any cooked winter squash with butter and herbs, a cream sauce, cheese sauce, maple syrup, candied ginger, spices and or nuts.

What?! Puree it with the skin on?! That's what I was thinking, but then I thought, hey, a little extra fiber can only be good. And so it was. I chopped off the bit of stem, the bit at the bottom, and of course removed the seeds -- but the regular food processor handled my butternut squash just perfectly - skin and all. So simple, and who would have thought...
1

butternut squash (as many as you want) or 1 acorn squash (as many as you want) or 1 any hard winter squash (as many as you want) or 1 pumpkin

0.25

ml salt
Preheat oven to 350.
Place squash on cookie sheet pan and bake for 60 minutes till tender and caramelized.
Remove from oven and let cool to handle.
Slice in 1/2 and remove seeds. (Discard seeds or rinse, towel dry and make my Recipe #102043 or #50958 it does work!).
Puree in a Vita mix blender optional skin and flesh with a pinch of salt till smooth.
Cool and place 2 cups in freezer ziplock bags. Freeze till ready to use in your favorite pie, soup, bread or sauce!