Ms B.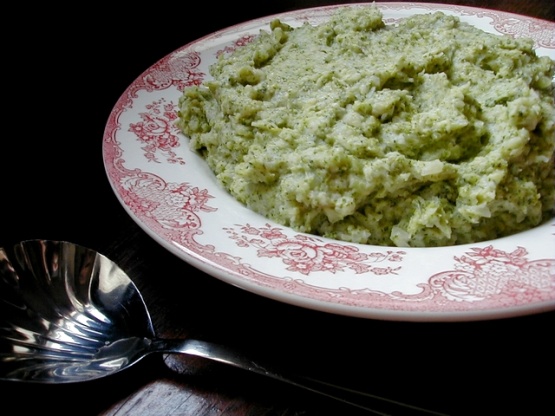 I adopted this recipe and recently tried it as a side dish to a chicken and dressing skillet. It was very simple to prepare, and I like the balance of the flavors of the leeks with the broccoli. I did change the potato content to 2 instead of 1, but this could be amended at your discretion. I think that this is a lower carb and more flavorful option instead of mashed potatoes, or just an excellent veggie side dish for a roast poultry or pork meal. The original poster said that this was one of their traditional Thanksgiving recipes, and I am considering it for my own holiday menus. The whipping cream could be adjusted to a lower fat option, if you wish.

Delicious. Used one potato as the original recipe called for and came away saying "yum" as always. We have evolved over the years to serving many vegetables on Thanksgiving but this remains at the top. Doesn't replace mashed potatoes for us! Just one of a number of outstanding vegetable side dishes.
4 1⁄2 tablespoons butter
1 1⁄4 lbs leeks, use white and pale green parts only, halved and thinly sliced to make 5 cups total

2

large russet potatoes, peeled and quartered

1

lb broccoli, separated into florets and stems (peel the coarse woody skin from the stems)

6

tablespoons whipping cream

1

tablespoon fresh dill, minced or 1 teaspoon dried dill
Melt butter in a large skillet over medium heat.
Stir in leeks.
Cover and stir often until leeks are very soft (about 15 minutes).
Cook potato in salted water until almost done (about 15 minutes).
To potato and water, add broccoli stems (5 minutes) and then florets (5 minutes) or until tender.
Drain well and transfer to food processor.
Add leeks to the food processor and puree all.
Return puree to skillet and add cream, dill, salt and pepper.
Blend well and serve.