Pureed Acorn Squash With Maple Syrup
karen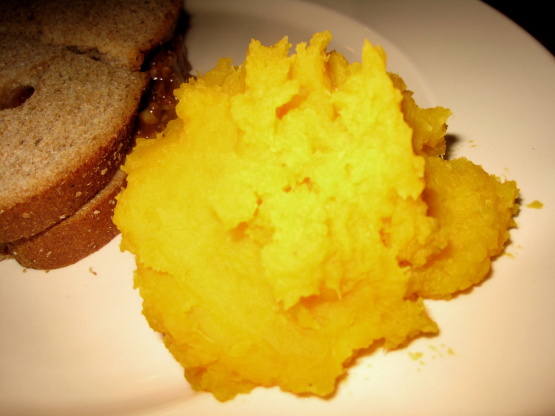 a very easy, quick, easy to prepare recipe for unexpected company or a quick dinner.
Carefully cut the acorn squash in half lengthwise, and scrape out seeds.
Place cut side down in a microwave-safe 10 inch glass pie plate, and add the water.
Cover with microwave-safe plastic wrap and vent one side.
Microwave on high power for 12 minutes, turning the dish a quarter turn twice, until the squash is tender when pierced with a fork.
Let stand, covered for 5 minutes.
Protecting your hand with a double thickness of paper toweling, spoon out the softened squash flesh and transfer to a food processor.
Add the buttrer and maple syrup and process until the mixture is pureed.
Season to taste with salt, and pepper, and serve immediately.