Puree of Butternut Squash Soup
awalde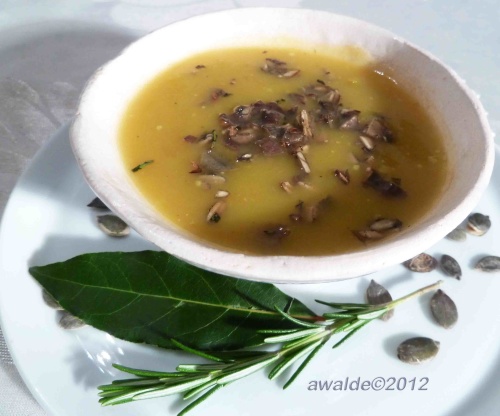 This velvety soup is even more enticing with its contrasting garnish. You can simply chops the pumpkin seeds for some added texure of heat them to release their flavor and aroma. Remember, when using a countertop blender to puree, whir hot vegetables in batches, filling the jar only halfway (unless you want to spend the night cleaning the ceiling). From Real Simple Magazine February 2006.

Top Review by awalde
I love squash soup and this warming soup was a great winter dish.
I'm glad you proposed bay leaf and rosemary I never had this combination in a squash soup.
For us it's very important to use a strong chicken broth as the butternut will dilute it.
Thanks a lot for this recipe.
Place the leeks, squash, bay leaf, salt, and broth in a large saucepan. Bring to a boil. Reduce heat and simmer gently until the squash is tender, about 12 minutes. Let cool for at least 10 minutes. Remove and discard the bay leaf.
Puree the soup in batches and rewarm over medium-low heat.
Meanwhile, place the pumpkin seeds and rosemary on a cutting board and roughly chop.
heat the oil in a small skillet over medium heat. Add the seeds and rosemary and heat, stirring occasionally, until fragrant, 2 to 3 minutes. Ladle the soup into bowls and sprinkle with the seeds and rosemary.