alligirl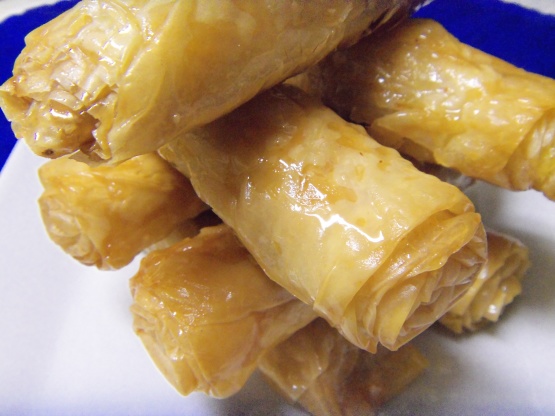 These take a little while to assemble but aren't difficult to make. Submitted for ZWT 9 Greece. From the Women's Day Encyclopedia of Cookery

So daggone good! I only made 1/2 the recipe (10 pastries) and was immediately remorseful that they will be gone, quickly! YUM! They do take a little while to get going and you have to be careful with your phyllo, but all the work is it's own reward, after the first bite! I really like the honey cinnamon syrup; that was like the cherry on top! Delicious! Thanks so much for sharing, momaphet!
Preheat oven to 350 degrees.
Mix together all ingredients except phyllo and butter.
Brush half of a sheet of phyllo with meted butter fold other half over and brush with butter so that you have a piece of phyllo 7 1/2 x 12 inches. Sprinkle with 1 TBL of nut mixture. Beginning at one end roll phyllo as you would a jelly roll. Cut into halves making 2 rolls approximately 3 1/4 inches in length.
Place on a greased cookie sheet (or on parchment) with smooth side of pastry up and brush with melted butter.
Bake for 20 minutes or until golden brown. While hot dip into warm Cinnamon-Honey Syrup and drain. (Don't burn your fingers!).
Cinnamon-Honey Syrup.
Mix all ingredients together and simmer for 30 minutes. Cook only until light brown.