Prep 20 mins
Cook 25 mins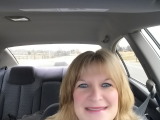 This is easy and delicious. It is a conversation piece wherever you go. Great for parties, showers, etc. Put in a clear punch bowl. It is beautiful.
Directions
Bake cake as directed.
Combine 1/2 cake in a punch bowl.
Mix pudding as directed.
Pour 1/2 of pudding over cake in punch bowl.
Add 1 can cherry pie filling, 1 can drained pineapple, and a layer of bananas.
Add 1/2 of Cool Whip and 1/2 pecans.
Repeat layers again and top finally with cherries and pecans.
Most Helpful
This is by far one of the best desserts ever! My mom has been making this since I was a little girl, and everyone wants the recipe. It goes by quickly! I have never had it with bananas, but I am sure that it is good. Normally, I place the crumbled cake in one layer in a 9 by 13 inch dish, add vanilla pudding and crushed pineapple, then take a knife, and poke holes in it to let the pineapple juice seep through. For Christmas, it is pretty to use red and green maraschino cherries. Thank you for sharing such a wonderful dessert.
I made this over the Holidays and it was a hit!! I couldn't find vanilla pudding so I use white chocolate pudding and it was to die for!! THANKS!!