flower7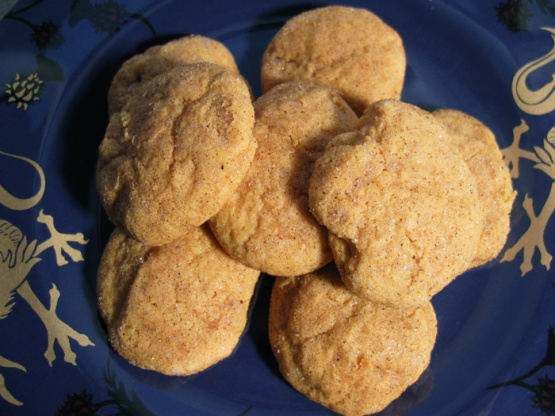 Thanks to iewe for naming this recipe for me. Originally named Pumpkin Snickerdoodles I like her new name for it! Found this on Annie Eats Blog and tweaked the spices just a bit and the size to fit my needs. I received 5 dozen cookies using a small cookie scoop. Nice fluffy and soft cookie full of flavor. Hope you enjoy them too!

Yummy cookies! I ended up having to refrigerate the dough about 24 hrs and was afraid it would be too stiff but it worked out fine (in fact, I stuck it back in the fridge between batches so it wouldn't get too sticky/soft). For the sugar-spice coating I used 1/2 tsp allspice & 3/4 tsp ea ginger & cinnamon. I ended up with about half the sugar-spice left over but never fear - it will not go to waste! It will make a great cinnamon-sugar sub for toast! :) I found the dough a little too stiff and sticky to use my cookie scoop so just ended up portioning the dough balls with my hands. I ended up with exactly 5 dozen. Thanks for sharing the recipe! :)
In a medium bowl, combine the flour, baking powder, salt, cinnamon, and nutmeg. Whisk to blend and set aside.
In the bowl of an electric mixer, beat together the butter and sugars on medium-high speed until light and fluffy, 2-3 minutes. Blend in the pumpkin puree. Beat in the egg and vanilla until incorporated.
With the mixer on low speed add in the dry ingredients and mix just until incorporated.
Cover and chill the dough for at least 1 hour.
Preheat the oven to 350Ëš F. Line baking sheets with silicone baking mats or parchment paper.
Combine the sugar and spices for the coating in a bowl and mix to blend. Scoop the dough roll into a ball using a small (1") cookie scoop (about 1 heaping tablespoonful). Coat the dough ball in the sugar-spice mixture and place on the prepared baking sheet, spacing the dough balls 2-3 inches apart.
Dip the bottom of a flat, glass in butter wrapper (from the butter in the recipe) to moisten, then in the sugar-spice mixture, and use the bottom to flatten the dough balls slightly. Repeat as necessary.
Bake the cookies for 10-12 minutes, or until just set and baked through.
Let cool on the baking sheets about 5 minutes, then transfer to a wire rack to cool completely.