David R.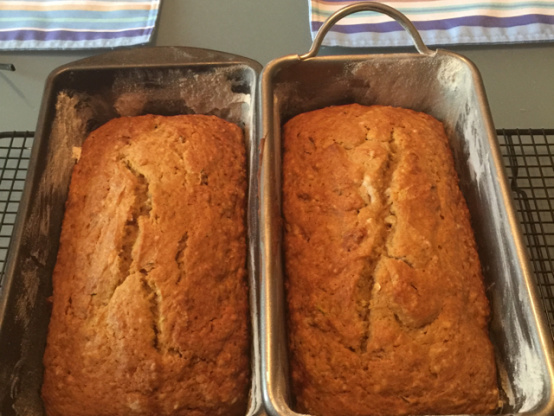 Pumpkin adds a twist of fall to the ever popular zucchini bread. Haven't tried this one yet but it looked like a winner so I thought I'd share it.

I love Pumpkin Bread & I love Zucchini Bread and this recipe proves to be a delightful combination of the two! I made exactly as Friedel recommends and the two loaves came out perfectly! Thanks for posting this recipe, Friedel!
Before beginning, preheat your oven to 350 F and grease and flour two loaf pans.
Mix eggs and sugar together, then stir in the pumpkin and butter.
Stir dry ingredients together and add to egg mixture.
Mix well.
Stir in the zucchini and nuts.
Divide into pans and bake 45 to 50 minutes or until the loaves test done.
Cool in pans ten minutes before removing to wire racks to cool completely.