Pumpkie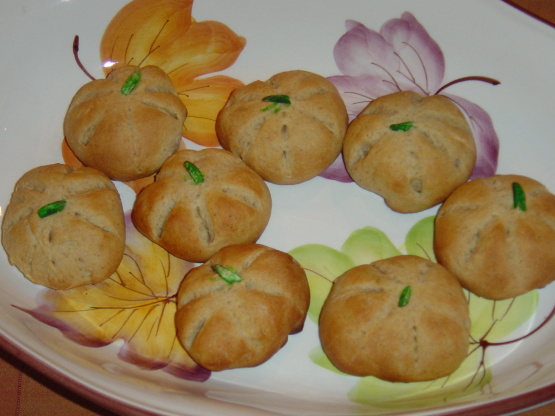 These are pumpkin flavored and shaped like pumpkins, they are easy and look great on your table at Thanksgiving. I will post a picture after Thanksgiving.
16

slivered almonds, i use a few extras in case any break,dye almonds ahead of time,directions below
1⁄4 teaspoon green food coloring

1

(16 ounce) package hot roll mix
1 1⁄2 teaspoons pumpkin pie spice
2⁄3 apple cider
1⁄3 cup warm water

2

tablespoons butter, softened

1

whole egg, slightly beaten

1

egg white

2

tablespoons cold water
Place almonds in small resealable plastic bag.
Add food color, seal bag.
Shake bag until almonds are evenly colored.
If you would like them to be a darker green add more color, I also dye a few extras in case any break.
Place almonds on wax paper to dry.
Combine hot roll mix, yeast package from mix, and pumpkin pie spice in large bowl, stir to mix well.
Combine cider and warm water in small saucepan.
Heat over medium heat until cider mixture is hot (120 to 130F) pour over dry ingredients.
Add butter and whole egg; stir until dough pulls away from side of bowl.
Place dough on lightly floured surface; knead until smooth and elastic, about 5 minutes.
Cut dough into 16 equal pieces; roll each piece into a ball.
Combine egg white and cold water in small bowl; beat lightly with fork until well blended.
Brush egg white mixture evenly onto rolls, covering them completely.
With a sharp knife, lightly score surface of each roll, beginning at top center and comming down around sides of roll to resemble a pumpkin.
Insert 1 almond sliver into top of each roll for stem.
Lightly grease baking sheet.
Place rolls 2 inches apart on prepared baking sheet.
Cover loosley with towel; let rise in warm place 20- 30 minutes or until doubled in size.
Remover towel.
Preheat oven to 375°F Bake 15 to 20 minutes or until golden brown.