Carianne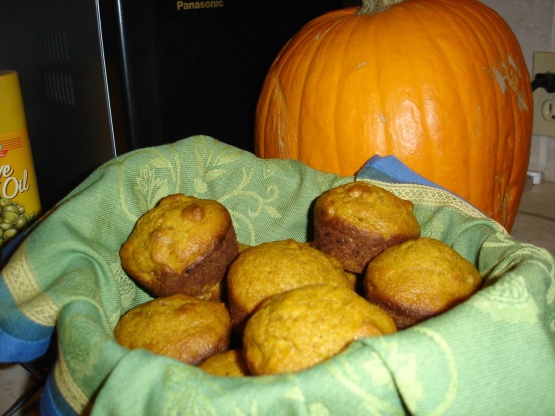 This delicious recipe makes 2 dozen of the tastiest muffins filled with raisins and walnuts along with a combination of spices. You probably won't have any left over, but if you do, they freeze very well. Dough needs to stand for one hour at room temperature before baking. Recipe found on the internet.

These are excellent muffins! They've got a super soft texture, which I'm guessing is due in part to letting the batter rest - don't eliminate this step if you've got the time, it's worth it! I made some modifications, based on other reviewers' suggestions, and my own personal preferences for a slightly healthier muffin: - Substituted half of the flour for whole wheat, and this was entirely unnoticeable - Substituted skim milk for water - Doubled the spices, and added a teaspoon of ground ginger for that complete pumpkin pie flavour - Added a full can of pumpkin puree, since the recipe calls for almost a full can - Modified the sugar; instead of 2 cups white sugar, I did 1 cup coconut sugar, and half a cup each of brown sugar and maple syrup. They still came out quite sweet (almost in cake territory), so next time I will eliminate the brown sugar. I am already planning to make these again next weekend! They're the perfect fall muffin :)
Mix together sugar, oil, eggs, pumpkin and water in a large bowl.
Sift together all dry ingredients and add to mixture.
Mix and add raisins and walnuts.
Let stand one hour at room temperature.
Place in greased muffin tins and bake at 400° for 15 minutes.
To freeze: when completely cool, place on cookie sheet and freeze uncovered, then place in plastic freezer bags.
Can just defrost when needed or microwave individual muffins for 20 seconds on high.