Pumpkin Waffles With Orange Syrup (Low Fat)
Calee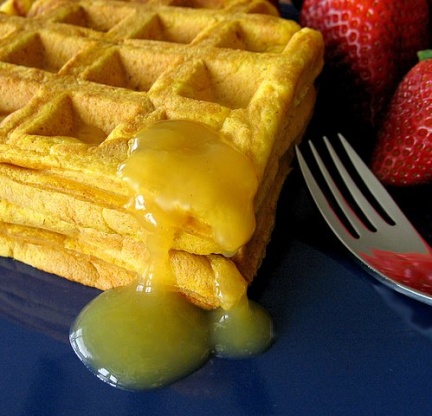 If your family is tired of ordinary waffles, they'll sit up and take notice when you sit this pumpkin-infused version and its orange syrup partner on the table. I got this recipe from the Better Homes and Gardens New Dieter's Cookbook.

I wont give a star rating, as I didn't make the orange syrup that everyone is raving about. I just made the pancakes, and hey were quite good. I used a nutriwheat flour (tastes like white flour, nutrition or wheat flour) and that was the only change i made. I was hopign for more pumpkin flavour. I wqas also hoping for a more crispy waffle, but that could have been because of my flour maybe? Anyways, I would still make these again:) thanks!
In a medium bowl stir together the flour, brown sugar, baking powder, salt, and pumpkin pie spice. Make a well in the center of the flour mixture.
In another medium bowl combine the milk, pumpkin, egg substitute, and oil. Add milk mixture all at once to flour mixture. Stir just until moistened (batter should be lumpy).
Pour about 3/4 cup batter onto grids of a preheated, lightly greased waffle baker. close lid quickly; do not open until golden brown. Bake according to manufacturer's directions. When done, use a fork to lift waffle off grids. Repeat with remaining batter.
For Orange Syrup: In a small saucepan stir together the orange juice, honey, cornstarch and cinnamon. Cook and stir until thickened and bubbly. Cook and stir for 2 minutes more. Serve warm. Makes about 1 cup.