diner524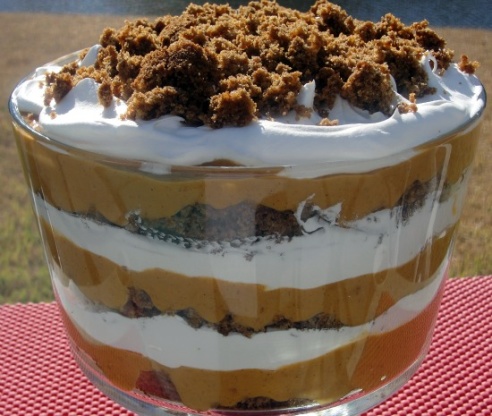 This is a great dessert for the fall time of year. It looks especially nice done in a glass fluted bowl or a footed raised one. It's very light in taste but also has a certain richness. Yummy!! Feel free to use regular instant butterscotch pudding in place of the SF.

WOW! This desert is absolutely fantastic! So easy to make and looks so beautiful. I love that it tastes just like pumpking pie but looks so much more sophisticated. Thanks for helping me score big points at Thanksgiving!
Combine the cake mix, water, and egg in a bowl.
Mix and pour into a 8x8 pan.
Bake 350 degrees for 30-40 minute.
Cool 10 minutes.
Turn out of pan onto a wire rack. When completely cool, crumble cake and set aside, reserving 1/4 cup of the crumbs for garnish.
Whisk milk, and pudding for 2 minutes until slightly thickened. Let stand 2 minutes or until softly set.
Stir in pumpkin and the spices. Mix well.
In a trifle bowl, layer 1/4 of the crumbs, 1/2 of the pudding, 1/4 of the crumbs, 1/2 of the whipped topping.
Repeat, ending with the whipped topping. Garnish with the crumbs.
Refridgerate.