Pumpkin-Swirl Cheesecake Tart
Kathy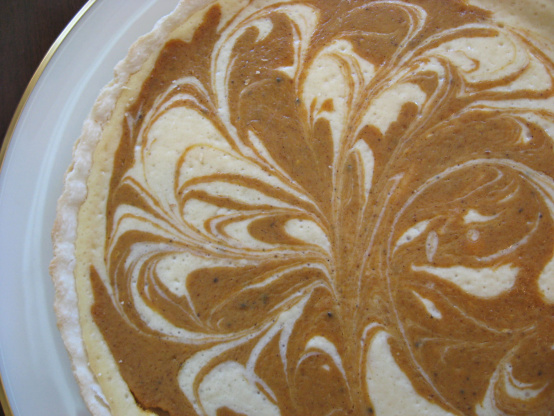 My all time favorite pumpkin dessert. This is from the November 1998 issue of Cooking Light Magazine.

Thank you for posting this, Emily. I made this cheesecake right after Cooking Light published it and, although I'd never made it since until this year, I'd also not forgotten how good it was! I made it in a pre-made graham cracker crust from the grocery store, which was too small, so I cooked the extra separately. That also made it next to impossible to swirl, so it wound up more like cheesecake with a pumpkin pie topping. Either way, it is light and fabulous. Yum!
Prepare and bake the Pastry Crust in a 9-inch round removable-bottom tart pan.
Cool crust completely on a wire rack.
Preheat oven to 300º.
Combine 1/2 cup condensed milk and the cream cheeses in a medium bowl; beat at medium speed of a mixer until smooth.
Add vanilla, salt, 1 egg, and egg white; beat until combined.
Spoon 1/2 cup cream cheese mixture into a small bowl; add 1/4 cup condensed milk, 1 egg, pumpkin, cinnamon, ginger, and allspice, stirring well with a whisk.
Pour remaining cream cheese mixture into prepared crust.
Pour pumpkin mixture over cream cheese mixture; swirl together using a knife.
Bake at 300º for 50 minutes.
Turn oven off; cool tart in closed oven 45 minutes.
Remove from oven; cool completely on a wire rack.
Cover; chill.