Pumpkin & Sweet Potato Soup
ImPat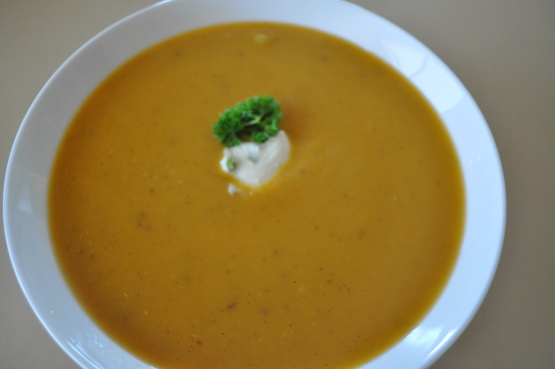 This is a light but hearty soup that has lots of flavor. For a special occasion add some cream. I found the original recipe in a monthly womens magazine.

Top Review by ImPat
Great soup - the DM loved it. I used a stick blender and just blended in the pot and then added the cinnamon and honey. I used just over a kilo of butternut pumpkin and about 600 grams of sweet potato and 2 litres of vegetable stock along with 1 very large red onion and 1 medium brown onion, keeping everything else the same. Thank you Trudy Hobbs, made for Bargain Basement.
Peel the sweet potatoes and pumpkin and cut into cubes of roughly the same size.
In a large saucepan, melt the butter using a medium heat.
Leaving the heat setting the same, add the onions and cook for 5 minutes.
Add the pumplin, sweet potatoes, ginger, caraway seeds and stock.
Season to taste, cover and simmer for 15-20 minutes until sweet potatoes and pumpkin is tender.
Remove from heat and puree in batches in a food processor.
Place in a clean suacepan, add honey and cinnamon.
Bring to the boil then remove from heat.
Add more seasoning if necessary.
Top with cheese then serve.
For a heartier meal cook you favourite pasta shapes for 5 minutes (so still firm), drain then add to the pureed soup.
Simmer for 5 minutes and then serve.