Pumpkin (Squash), Leek, Bean and Bacon Soup
christie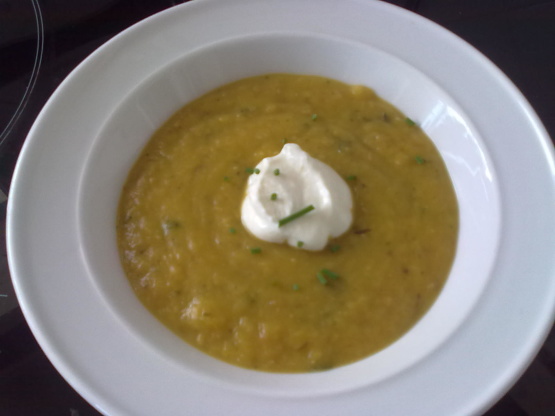 I was tired of the pumpkin and leek staring at me -- asking me to do something with them -- so I did this. A recipe card from the green grocer gave me a few hints, but I consider this to be my recipe. It's a great warmer in winter, and not too bad served at room temperature. The ingredient amounts are forgiving, so don't be afraid to be flexible. If you want a vegetarian result, omit the bacon and use vegetable stock. Cream can also be omitted. The chili flakes make the dish. *Note: If you can get tinned/canned pumpkin, you can use three 15-ounce tins to replace the chopped pumpkin. If you do this, you can add the tinned pumpkin when you add the cream.

Very nice starting point for a soup. I can attest to the forgiving nature of the recipe. I used 3 large leeks (and even included lots of the darker green parts because they do have nice flavor, the dark green looks great in this soup, and because they aren't too tough after a good simmer). I used extra garlic, less stock, and skipped the beans altogether because I didn't think we would like that texture with the thicker type of soup. I used turkey pepperoni slices in place of bacon, and used 2 cans (didn't have a 3rd) of pumpkin rather than the squash--partly for convenience, but also because I've found that pumpkin strikes me as less sweet than the other orange/yellow squashes and I prefer that. I had no tarragon, so used extra thyme and added some sage, as well as plenty of pepper. I did not use the cream and we did not miss it. I served it with some parmesan cheese and fresh bread and salad. It had great flavors that both contrasted from each other and worked well together, and I also really enjoyed the leftovers in my lunch. To top it all off, it was quick and easy to toss together and allows you to do other stuff during the simmer.
1

tablespoon oil

200 -250

g bacon, diced and lightly fried

1

large leek, white and light green parts, trimmed, rinsed and sliced (about 250 grams)

1

large onion, peeled and sliced

2 -3

garlic cloves, crushed
1 1⁄4 kg butternut pumpkin, peeled and chopped (squash)

7

cups chicken stock (or vegetable)

1

(400 g) can lima beans, drained and rinsed (butter, or cannellini)

2

pinches dried tarragon leaves

1

teaspoon dried thyme (optional)
1⁄4 teaspoon dried chili pepper flakes
1⁄4 cup parsley (chopped)
1⁄2-1 cup whipping cream (optional)
salt, to taste
pepper, to taste
sour cream (to garnish)
parsley (to garnish) or coriander (cilantro, to garnish)
Heat oil in a dutch oven or large, deep saucepan that can hold all the ingredients.
Lightly fry the chopped bacon. Remove and set aside. If the bacon has released a lot of fat, drain off as much as you wish.
Reheat the remaining oil/bacon fat. Add sliced leek and onion and crushed garlic, and saute until tender.
Add chopped pumpkin and saute for five minutes, stirring frequently.
Add stock, beans, bacon, tarragon, thyme and chili flakes.
Bring to a boil, then lower heat and simmer uncovered for 20 minutes, or until pumpkin is fork tender.
Add 1/4 cup parsley.
Zap the cooked mixture with a stab blender or buzz up in a food processor. Or crush with a potato masher. The choice depends on your consistency preferences.
Stir in cream (if used), and season with salt and pepper to taste. Reheat gently.
Ladle into bowls and garnish with sour cream and additional parsley or coriander (cilantro).