Rita~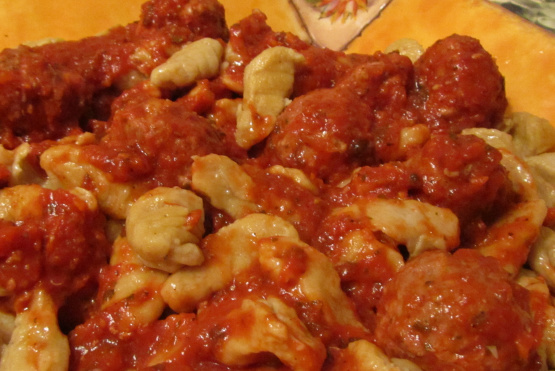 This recipe comes from a wonderful pumpkin/squash cook book that my sis found at a local book store. It is rather easy to make and the end results taste very nice. This recipe is great for company for it looks quite impressive and everybody will think you spent the whole day in the kitchen. ;)

This was my first attempt at gnocchi and I'll definitely try it again! I used 1 (15oz) can of pumpkin puree and unlike Wish I Could Cook, I didn't saute it first to dry it out (I will next time), so my dough needed 2 1/2 cups of flour. My dough was still a bit sticky so I pulled it out of the bowl and put it on the countertop in rope-shaped batches, sprinkling the countertop and dough with flour, then it was relatively easy to make a sausage shape. Thanks Loula for introducing me to the world of making gnocchi!
1

egg

1

tablespoon oil

400 -500

g flour (depending on how wet your pumpkin puree is)
salt, pepper
Wash, peel (if necessary) and chop the pumpkin/squash. Cook covered in water for 20-25 minutes or until tender. Drain well.
Place pumpkin/squash in a bowl and mash. Add egg, oil and herbs. Mix well. Little by little sift in the flour and fold in carefully. Using your hands work into a smooth, but not sticky dough (this might require extra flour).
Turn out onto a floured surface and form into rolls of about 1 cm thickness. Cut into pieces and flatten with a fork to create a decorative pattern.
Cook gnocchi in a big pot (it shouldnt be crowed or theyll stick together) in boiling salt water for about 3-4 minutes and serve with a sauce of your choice (I used a herby cheese sauce, but tomato or pesto would ge great as well.).
If you dont want to use a very large pot, you can also cook the gnocchi in portions, keeping the already cooked ones warm in the oven.