Pumpkin Spice Whoopie Pies
my3peas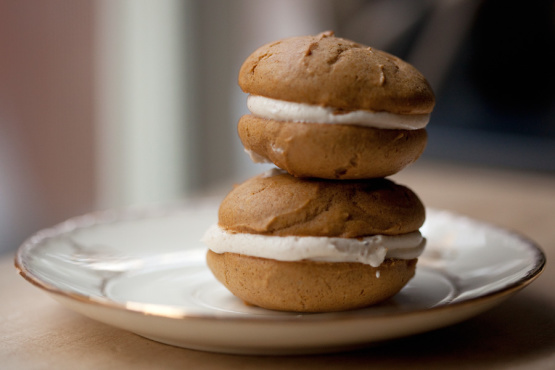 Whoopie Pies are big sandwiched cookie. These are a hit with kids and adults alike. I prefer mine frozen!

These are marvelous cookies! I love the pumpkin flavor and rich-but not overly sweet-filling. I made these small and used them as Pumpkin Pasties for a Harry Potter party. They were a huge hit! I did find that they needed to bake for seventeen minutes, however - at fifteen, they were sticky when cooled.
Cookies: Beat pumpkin and butter with an electric mixer until smooth.
Add cake mix, eggs and milk and beat on low speed until combined, then on medium speed for one minute.
Cover cookie sheets with parchment or oiled foil.
Drop large mounds of dough 3 inches apart on cookie sheet.
Bake for 15 minutes at 375 degrees F.
Filling: Beat together butter and cream cheese until smooth.
Add powdered sugar, marshmallow cream, vanilla and cinnamon and nutmeg.
Beat until well combined.
Refrigerate at least 30 minutes or until cookies are ready to be filled.
When cookies are cool, spoon filling on bottom of cookies and sandwich together.