Pumpkin Spice Sugar Cookies
hollia68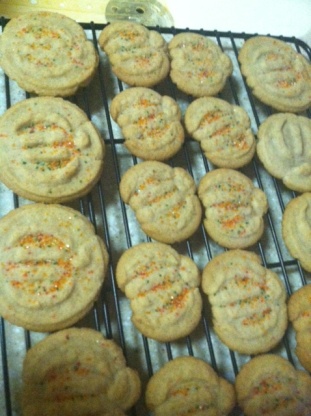 From my mom's Gooseberry Patch Flavors of Fall. Haven't tried these yet.

Tasty cookie, next time I might add a little more spice. My dough was also very stiff, after chilling I had to let it warm back up to roll out. Cut into Halloween shapes, no sprinkles or icing though.
In a mixing bowl, add four and baking soda; stir gently to mix; set aside.
In another mixing bowl, blend butter and powdered sugar together.
Add in pumpkin pie spice, vanilla, and egg; stir to combine.
Mix in the flour mixture; blend well.
Cover dough and refrigerate for at least 2 hours.
Roll dough out on a lightly floured surface; cut into desired shapes with cookie cutters.
Bake in a 350° oven on ungreased cookie sheets for about 8 minutes or until golden.