Pumpkin Spice Muffins - Gluten-Free & Dairy-Free
mammaeve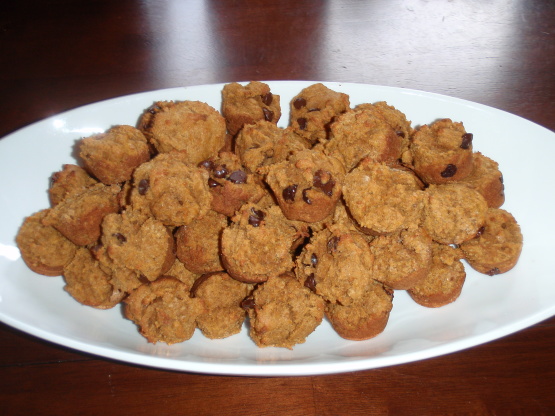 This recipe makes a big batch (approximately 24!) of moist gluten-free, dairy-free pumpkin muffins that can be refrigerated or frozen. This recipe was designed specifically for "I Can't Believe It's Not Gluten! Gluten-Free Cake Flour Mix" as the gluten-free baking mix but you should be able to substitute any light, gluten-free flour mix that contains guar or xanthan gum.

I made several substitution and the muffins were still delicious. I appreciate recipes that allow for some subbing! I used Red Mill All-purpose flour plus 2 t xanthan gum, used 1/2 splenda and 1/2 molasses, and 1/2 apple sauce plus 1/2 olive oil. I added walnuts and chopped dates for fun. Muffins are delicious!
Preheat oven to 350°F
Mix all dry ingredients in a large bowl.
Whisk wet ingredients together in a separate bowl, then fold into dry mixture.
Whisk all ingredients until combined and smooth.
Place muffin liners into two 12-muffin pans, and spray the insides of the papers with baking spray.
Distribute batter evenly between muffin liners (approximately 1/4 cup each). Bake for 20-25 minutes.