Mandy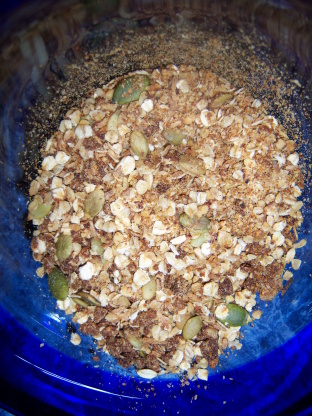 Granola comes in many different varieties. This is a nice variation on traditional granola. Great for fall!

Top Review by Mandy
I did a half batch of this using hazelnuts in place of pecans & almonds. This was nice but I found that the coating didn't give as much coverage as I would like so would perhaps increase that by a bit. This is also great as it's not too sweet like some granola's, went great with blueberries & yoghurt for brekky.
Preheat oven to 325°F.
Combine the oats, pepitas, nuts, wheat bran, oat bran, dry milk powder, and coconut in a large pan.
In a small saucepan, combine the oil, honey, syrup, flavoring, pumpkin pie spice and salt.
Heat just until blended thoroughly.
Pour syrup over oat mixture and mix until thoroughly coated.
Spread on 3 jelly roll pans and bake in preheated oven for 15 to 20 minutes or until lightly browned, stirring frequently.
Cool completely in pans.
Pour cooled mixture into a large container, add dried fruit and mix well.
Store in airtight container at room temperature.