Edesia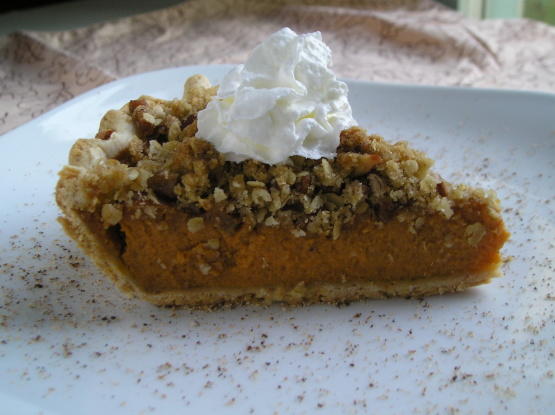 This is a delicious pumpkin Pie - I love the crisp topping - it is just a little different, but very,very good!

Top Review by Edesia
I made this for Thanksgiving yesterday and loved it. The pumpkin part was creamier than traditional pumpkin pies; much less dense. The only reason I didn't give it a fifth star is because I could only fit half of the topping on the pie. I recommend that the topping ingredients be cut in half unless you like to throw food away. Also I think it should be called Pumpkin Spice Crisp Pie, because when I first saw it, I thought it was a crumbly crisp that you serve over ice cream. It's very good though; my traditional pumpkin pie loving family enjoyed it very much. Thanks for sharing. P.S. Robin Hood is a name brand of quick oats.
Preheat oven ot 425°F.
TOPPING: Combine ingredients with a fork for topping. Reserve.
FILLING: Whisk pumpkin purée, sugar, evaporated milk, eggs and vanilla in a large bowl. Stir remaining ingredients. Pour into prepared pie plate.
Bake in preheated oven 15 minutes, reduce heat to 350F,and bake for 45 minutes.
Add reserved topping and bake for an additional 20 minutes. Remove from oven and cool before serving. Serve with freshly whipped cream.