Diana Yen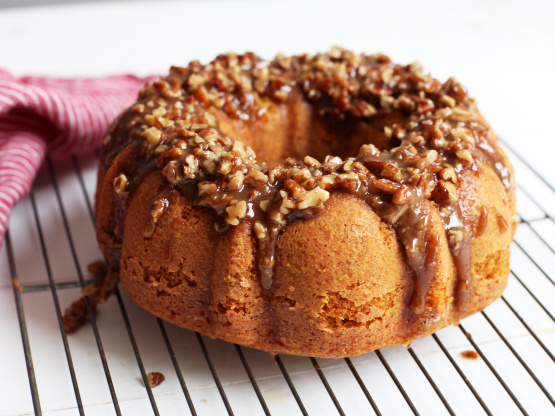 I originally got this recipe from verybestbaking.com. It was posted there in the swapped recipes by L.Terrell. I have made a few adjustments to the original recipe and I often double the praline topping because it's so good. It's very yummy and very easy!

This cake is a winner. Instead of using a box of yellow cake and the pumpkin pie spice, I just use a box of spice cake mix--turns out great.
Preheat oven to 350°F.
Generously grease bundt pan (be sure to use a larger bundt pan because there will be a lot of batter).
In a large bowl, combine cake mix, pumpkin, brown sugar, oil, and pumpkin pie spice.
Beat with mixer for 1 minute.
Add eggs, beat for 2 minutes more.
Prepare topping* by melting butter with brown sugar in small saucepan.
Remove from heat and add nuts.
Pour half of the cake batter into greased bundt pan.
Pour small amount of topping mixture on top of the cake batter, all the way around (be careful to keep in the center and not get close to the side or middle of the pan).
Pour the rest of the cake batter into the pan.
Bake cake at 350°F for 45 minutes to 1 hour.
Cool in pan on wire rack for 15 minutes, then invert onto plate.
When cake is completely cool, re-warm remaining topping and drizzle remaining topping on cake.
*The topping instructions aren't very specific and you really don't have to cook it a long time, just until the sugar and butter are melted and bubbling.