HisPixie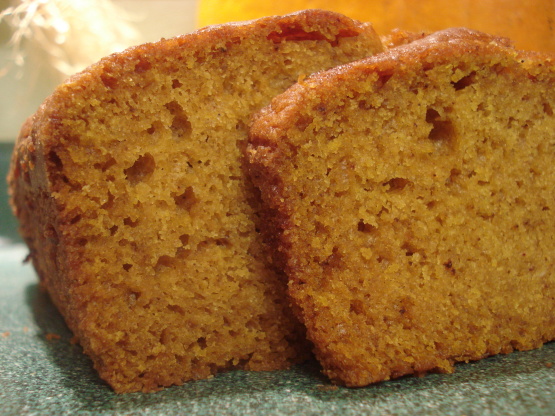 Hooray for fall! We love this pumpkin bread recipe--especially when the slices are slathered with a generous spread of cream cheese. Makes two loaves, so freeze the other one, or heck--eat it. This bread goes fast.

Hooray for another great recipe! And the reviews and tips were helpful too! I baked this bread to rave reviews and my recipe included revisions suggested by several other cooks. I used only 2 cups of sugar, I halved the oil and added 1/2 cup of unsweetened apple sauce, I used half whole wheat and half white flour and I replaced the spices w/ 4 tablespoons of pumpkin pie spice for flavor. Next time I'll take some of the other advice and add pecans. My bread was quite moist and it came out perfectly. (For any of you who had trouble removing the bread from the pans, I sprayed mine with Pam baking spray (the oil and flour are combined into the spray) and my loaves literally fell out of the pans. Thanks so much to jmelyn for an excellent recipe!
Heat oven to 350.
in a large mixing bowl, combine pumpkin, sugar, water, vegetable oil and eggs.
Beat until well mixed.
Measure the flour, baking soda, cinnamon, salt, baking powder, nutmeg and cloves into a separate bowl and stir until combined.
Slowly add the dry ingredients to the pumpkin mixture, beating until smooth.
Grease two 9 x 5 inch loaf pans and dust with flour.
Evenly divide the batter between the two pans.
Bake for 60-70 minutes or until a toothpick inserted in center comes out clean.
Cool for 10-15 minutes, then remove from pans by inverting onto a rack and tapping the bottoms.
Slice and serve plain, buttered, or with cream cheese.
Note: Cream cheese is the ONLY thing to put on this bread because--it is so so so yummy!