Fauve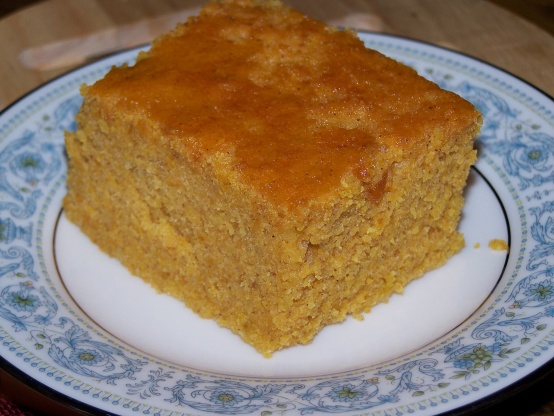 Great for trick-or-treaters....or served to adults with a steaming cup of hot cider.

These were so easy and delicious. I had a can of pumpkin that I wanted to get used up, so decided to make these as part of the 'Cookiethon'. I did add the raisins after all the other ingredients were mixed (folded them in). I took them to my parents', so there were only four of us, but they wanted to keep some of what were left when we got ready to leave. Dad is not usually one to comment one way or the other about whether or not he likes something, but he made it a point to mention how great these were! Now that's saying something! Thank you for sharing a great recipe Ambassadress!
Preheat oven to 350*.
In mixer, beat eggs until frothy.
Add sugar and continue beating 2 minutes.
Blend in oil and the canned pumpkin.
Sift dry ingredients together (over the raisins) and fold dry mixture into the egg mixture.
Do not over-mix.
Pour into a greased and floured 13 x 9" pan.
Bake for 35 to 40 minutes or until done throughout.
Cool on rack, then cut into 24 squares.
For variety, top each square with a toasted walnut half.